Monday, 23 November 2020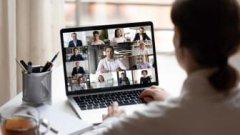 Once upon a time working from home was a relative rarity – occasionally a colleague would declare that they were going to "WFH" for a day to concentrate and have a day without being interrupted in the office.
Of course this has turned on its head this year with so many people now working at home mainly or completely. Like most businesses, we moved quickly to enable many of our staff to work from home over the last six months, with a few still coming into the office where home working was not viable. Whilst we miss the interaction and socialisation with colleagues, we have at least proved that we can operate the business efficiently with many of our team scattered around the country working from kitchens, sitting rooms and bedrooms.
However one key area of our business can't be done remotely is our warehouse and logistics – many thanks to our fantastic warehouse crew who have bene coming to work every day throughout, it's difficult to handle cartons and pallets from afar! We have an extensive list of safety measures and protocols at each working location to protect our staff with only minimal impact on efficiency.
It will be interesting to see the longer term impacts of this change in work pattern – will it be a blip or will WFH become the norm for many long term…?