Friday, 20 August 2021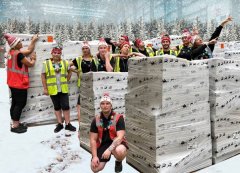 It's August, so that means….Christmas!
Smart's band of Singing Elves, a.k.a. The Wrappers, are already despatching seasonal deliveries to the UK's garden centres…..and, as in previous years, it is impossible to miss their distinctive pallet-wraps!
The Three Kings Christmas brand is going from strength to strength with more and more well-priced, fast-selling products being added. Customers have also been incredibly supportive, most taking time out to visit Smart's grotto-esque showrooms.
Meanwhile their industrious Product Elves are swept off their feet arranging the next, 2022 Christmas Cornucopia, which will be unveiled later this year…..so watch this space!