Monday, 5 July 2021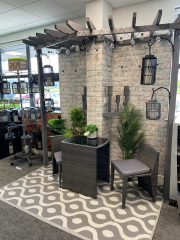 Three months sooner than in prior years, Smart Garden Products have updated their showrooms at Peterborough and Abingdon, showcasing their complete 2022 product ranges.
Renowned for industry-leading product development, they have again added hundreds of new items to their existing portfolio as well as launching a completely new category and brand. The USEFUL range encompasses green-fingered solutions for Growing, Tying, Fixing and Tidying. Colour-coded for ease of merchandising and selection, the pack designs are clear, fresh and contemporary whilst the packaging itself is all made from recyclable cardboard, avoiding single-use plastics.
Showrooms are open to customers by appointment from July 12th and provide the opportunity to appraise Smart's NPD, ranges and merchandising at leisure. "Global supply chains remain incredibly stretched and stressed by the pandemic, this year more than ever. We strongly advise all our customers to book their pre-season requirements as early as possible to avoid disappointment. We have brought forward our product and showroom launches with this objective in mind." said Jonathan Stobart, Managing Director.
Smart's Virtual Showroom has also proved to be a hit with buyers wanting to review ranges in their own time and the updated version will be available to visitors from July 30th. "Our VS is a great tool for customers that are unable to visit us. We of course hope the majority of our retail friends and partners will be able to come in person and give us the opportunity to roll out the red carpet for them!" added Jonathan.