Monday, 11 January 2021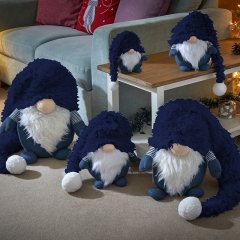 Best-selling ranges from last season have been extended with many enticing new designs while there are numerous completely new designs – all at knockout prices.
The famous Gong Gang, firmly established as a Three Kings favourite, is even bigger, brasher and bolder than ever, while sure-fire sellers include new colours and sizes of Super Furries and Fairy Princesses.
The Festive Features section boasts a selection of new string and stake lights including CandyCane style stake lights along with Snow and Star DécorStakes, perfect for lighting pathways to lead Santa right to your front door. Further seasonal illuminations include a wide choice of Festive Gifts, TreeBelisks and luminescent LightSpheres.
For 2021, there is a new Super Bright Decor Low Voltage range. Available in three shapes; Star, Sphere and TreeCone, these Superbright Mega Classics deliver a powerful lighting punch.
By popular request, the range now includes an extensive choice of SnowSwirls and Snow Spheres, all proven fast-sellers and at unbeatable prices. And Christmas just wouldn't be Christmas without Wreaths, Lanterns, Doorstops and Nutcrackers - seasonal staples for every home!
Jonathan Stobart, Managing Director comments "We were thrilled with the reaction to our 2020 range and believe that we now have an even more compelling offering. For 2021 we have introduced numerous additions to complement existing ranges as well as a wide selection of new products. Smart Santa and his industrious elves have been very busy…!".
Customers are most welcome to visit us at either of their showrooms in Peterborough or Abingdon and enjoy the Three Kings experience first hand. For those unable to visit in person, Smart invites you to visit their Virtual Christmas Showroom. Online visitors can look round the showroom at their leisure using an easy on-screen navigational tool. New products introduced for 2021 are clearly highlighted in high-resolution allowing users to zoom in and get a full appreciation of products, packaging and displays.