Tuesday, 7 December 2021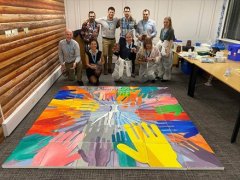 The Smart boardroom was recently transformed into an art studio, ready to host an unusual and thought-provoking team-building exercise.
Tasked with recreating a colourful modernist tableau of Da Vinci's Vitruvian man, colleagues were split into teams, each having to replicate one sixth of the artwork on several blank canvasses.
Teams were inter-departmental, drawn together from all facets of the company. Groups quickly scrambled out their plans to determine everyone's strengths, and how best to sketch shapes and mix paints to complete the task in the allocated 90 minute time period.
Slowly but surely canvasses filled with form and colour as each team fell into their own working rhythm. But it was not until all 36 canvasses were laid on the floor 90 minutes later that the final result could be viewed and appreciated in all its glory, an incredible near-perfect replica of the original piece!
The core message of the exercise was clear - Smart's 6 separate teams had unwittingly acted cohesively as one, achieving a coordinated outcome and superb artwork.…and they had fun whilst doing it!
Despite repeated lockdowns having forced new, more remote ways of working, team spirit at Smart lives on and is as strong as ever.
Participants were also asked to come up with ideas on what to do with the artwork. The best idea so far is to auction the 'masterpiece' for charity…..so, watch this space!